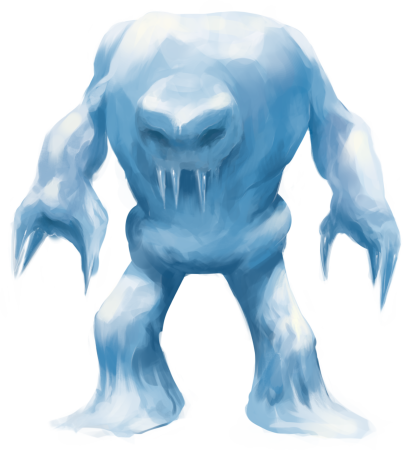 The wind sweeps across the plains, carrying masses of ice and snow. With your head down, half-blind in the storm, you trudge along until suddenly, the pillar of ice next to you rises from the snow and looks down at you with a threatening gaze. Before you can react, sharp icicles are already shooting toward you. The battle with the ice elemental is unavoidable.
Body of Ice. Ice elementals are almost indistinguishable from snowdrifts or ice pillars in the blowing snow. Their bodies are made of solid ice, with legs as thick as tree trunks. Long, pointed icicles hang from their hands, and the eyes are nothing more than dark sockets.
Increasing Energy. As they age, the elementals grow larger and more powerful, due to the increasing concentration of elemental energy. Larger elementals have more powerful abilities than small ones and can even influence their environment. Water near them freezes, sharp ice spikes shoot out of the ground, and ice suddenly prevents creatures from moving.
Snow Camouflage. Usually, ice elementals remain motionless in the landscape. Until someone comes near them, at which point they make short work of them and only lie down again when silence has returned around them. To get closer to their enemies, they like to dig through the snow, melding their bodies to the landscape, because they are rather sluggish on foot. But you can find ice elementals in the water too, disguised as floating chunks of ice.
Unpleasant Battle. Battles with these creatures are brutal and unpredictable. Even though the elements are vulnerable to fire and piercing damage, this comes with unsightly side effects. A melted ice elemental will speed up, and damage caused by swords, arrows, and hammers will cause flying ice shards.